DUBAI, UAE - 28 OCTOBER 2021: A group of female students and budding young golfers have weaned unique golfing insights from some of the sport's biggest international names during a special workshop arranged by the Emirates Golf Federation (EGF) at this week's Dubai Moonlight Classic.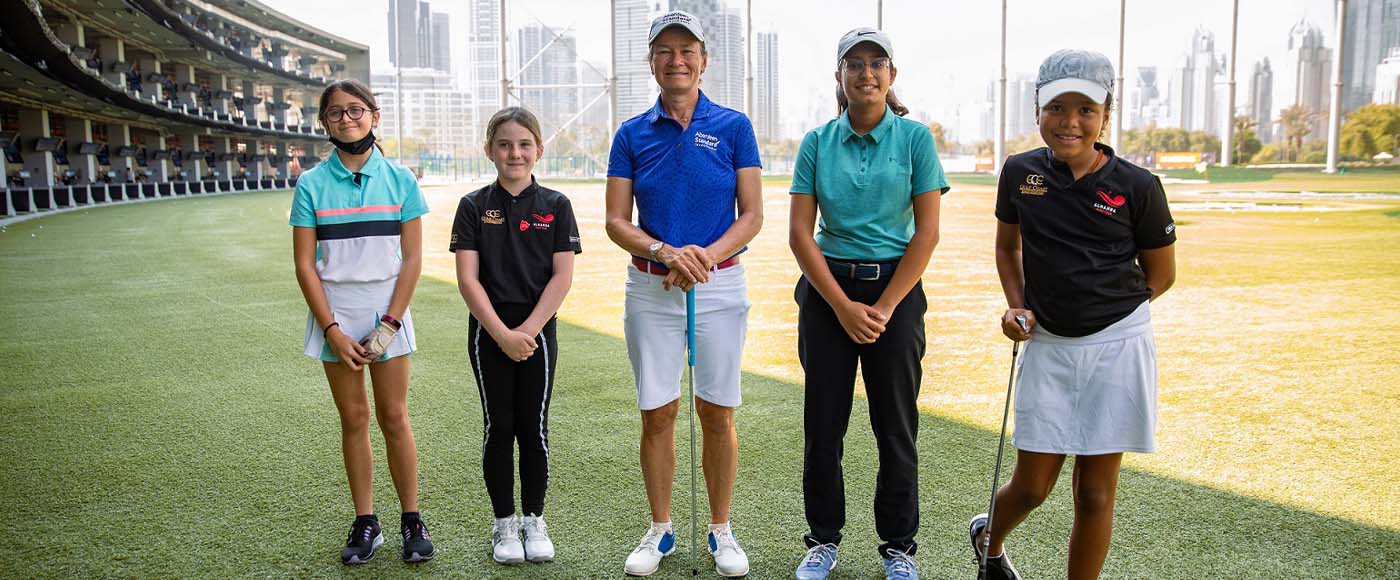 Representing a mix of Dubai-based schools, the youngsters toured Emirates Golf Club before taking part in tutorial sessions at Topgolf Dubai led by English golfing legend Dame Laura Davies, Solheim Cup-winning captain Catriona Matthew, and English star Bronte Law.
The three headliners are among a world-class global field vying for the Dallah trophy and a 260,000 Euro prize fund on Emirates Golf Club's Faldo Course until October 29.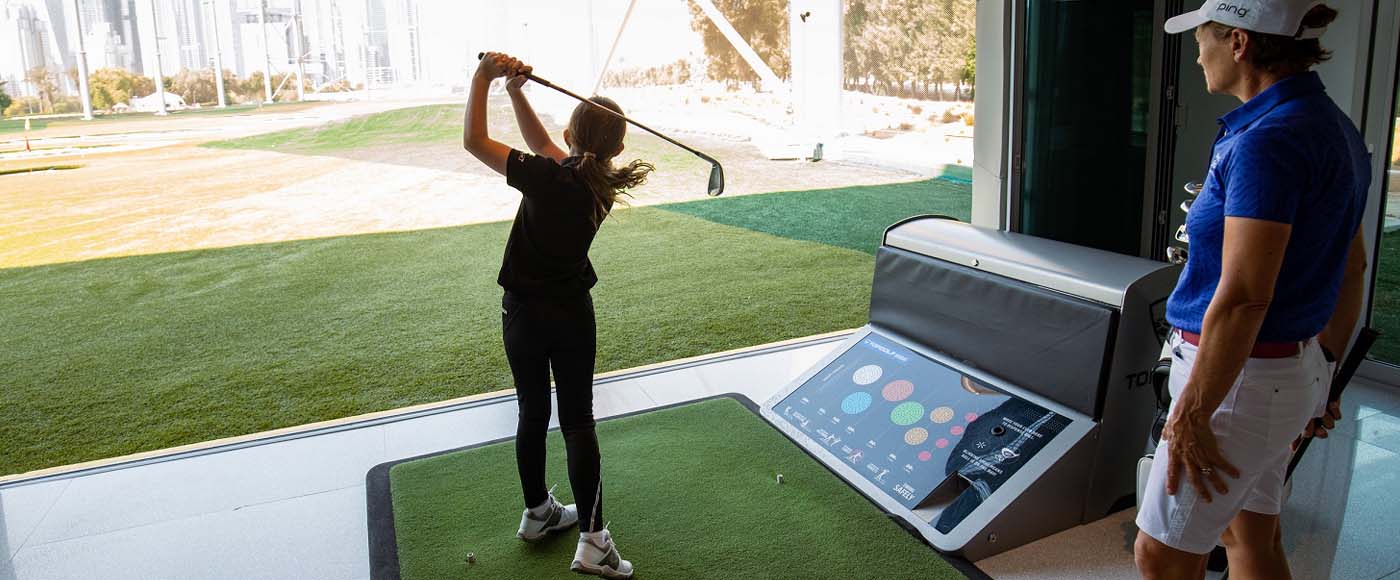 Arranged by the EGF to promote the sport amongst both Emirati and international students, the school visit saw the international stars discuss the sport with gathered students and explore what it takes to make it. The students then tried out their swings in the bays at Topgolf Dubai, the inclusive, high-tech golf game and three-storey mega entertainment venue at Emirates Golf Club.
Samir Wallani, coach of the UAE Golf National Team, was thrilled with the students' response to the workshops: "First of all, we have to get more girls into the game. There is a lot of fun within this game but players need to master many aspects – the technical, mental and physical parts, which include ability and the strategy. The students got a lot out of these sessions with the generous and inspiring professionals."
On the growth of the game among young Emiratis and Arab world youth, Wallani added: "When I started with the UAE national team in 2017 only a few girls were playing. Now, Emirates Golf Federation is doing a very good job bringing youngsters from schools to the golf course and giving them lessons, selecting the best and adding them to junior national development programme. From there, we find members for the UAE National Team."
Dame Laura Davies welcomed the opportunity to spread the word about golf to the next generation of Emirati and Arab girls: "First and foremost, it's all about enjoying golf, that's the main thing. You never quite know if any player is going to go to the top level, but it's a great sport for kids to be involved in and it's very different to team sports. It's individual, you practice on your own - I used to love that. It is important to find a level of fun, and then if it gets serious, it is all about practice."
Matthew agreed, adding the Dubai Moonlight Classic and Topgolf Dubai can encourage young girls to enjoy the sport: "Coming here is great, I was just playing the Angry Birds game which is great fun when you're young. It's about keeping it fun; you don't want to make it too serious. Make it fun to get the girls into the game and they will naturally want to take it further and maybe get a bit more serious.."
Entry is free to Emirates Golf Club on Thursday and Friday, and the tournament promises a carnival atmosphere featuring the best local homegrown street food courtesy of Truckers UAE, golf taster lessons, and family-friendly activities including a kids' play area and music from talented local singer-songwriters Jamie Wrecs and Martyn Crocker, and saxophonist Masha Kutskova. The tournament village will be open from 4-10pm.